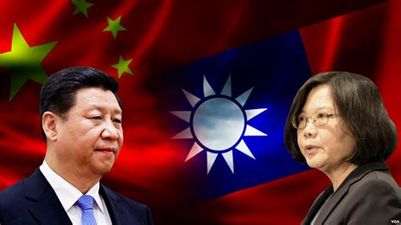 The United States insisted Tuesday that nothing had changed in its stance toward Taiwan after Beijing was angered by an updated fact sheet that used less explicit language to reject the island's independence.
The State Department said the United States still only recognized Beijing as China's government and was simply polishing off an online fact sheet which had not altered in several years.
"There's been no change in our policy. All we have done is update a fact sheet, and that's something that we routinely do with our relationships around the world," State Department spokesman Ned Price told reporters.
"We call upon the PRC to behave responsibly and to not manufacture pretenses to increase pressure on Taiwan," he said, referring to the People's Republic of China.
The updated fact sheet, which appeared on the State Department's website last week, said that the United States "has a longstanding One China policy, which is guided by the Taiwan Relations Act, the three US-China Joint Communiques and the Six Assurances."
Full Story: https://insiderpaper.com/us-plays-down-change-as-china-angered-by-taiwan-fact-sheet/
Follow On Telegram: https://t.me/chinauncensoredandexposed