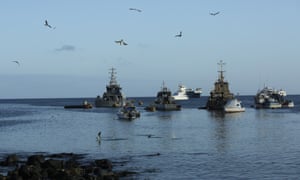 Chinese fishing vessels operating near the Galapagos Islands have reportedly been falsely reporting their location as New Zealand. 
Around 260 of them arrived at the Unesco world heritage site in July, Stuff reports, staying in international waters but raising alarm in Ecuador, which governs the eastern Pacific islands. 
The Chinese ships are accused of illegally fishing for sharks. Three years ago a Chinese vessel was caught near the islands with 6000 frozen sharks aboard, resulting in millions of dollars in fines and jail time for the crew.
"We are on alert, [carrying out] surveillance, patrolling to avoid an incident such as what happened in 2017," Ecuador's defense minister Oswaldo Jarrin said last week, according to a report in industry magazine Maritime Executive.
Full story: https://www.newshub.co.nz/home/new-zealand/2020/08/chinese-fishing-flotilla-in-galapagos-accused-of-pretending-to-be-in-new-zealand.html