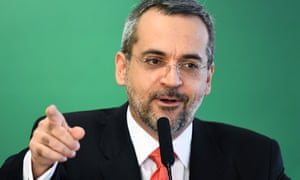 China has demanded an explanation from Brazil after the far-right government's education minister linked the coronavirus pandemic to Beijing's "plan for world domination", in a tweet imitating a Chinese accent.
In the latest incident to strain ties between the two nations, minister Abraham Weintraub insinuated China was behind the global health crisis.
"Geopolitically, who will come out stronger from this global crisis?" he wrote on Twitter Saturday. "Who in Brazil is allied with this infallible plan for world domination?"
In the original Portuguese, his tweet substituted the letter "r" with capital "L" – "BLazil" instead of "Brazil," for example – in a style commonly used to mock a Chinese accent.
Full Story: https://www.theguardian.com/world/2020/apr/07/china-outraged-after-brazil-minister-suggests-covid-19-is-part-of-plan-for-world-domination?CMP=share_btn_tw