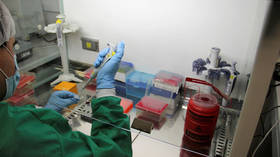 A controversial genetic experiment to make Chinese twins resistant to HIV is causing renewed outrage after the release of the original research, with scientists charging that it failed to meet its goals and ignored basic ethics.
The MIT Technology Review published portions of two previously unseen research papers on Tuesday, principally authored by Chinese biophysicist He Jiankui, who last year attempted to use CRISPR DNA editing technology to immunize twins – Lulu and Nana – against HIV.
While He's bold claims about what the experiment accomplished have come under scrutiny before, a wave of new criticism has followed the publication, which was passed to MIT by an unnamed source. Chief among the complaints is that He's experiment didn't achieve its main goal: producing a mutation in the CCR5 gene that would create resistance to HIV.
"The claim they have reproduced the prevalent CCR5 variant is a blatant misrepresentation of the actual data and can only be described by one term: a deliberate falsehood," Fyodor Urnov, a geneticist at the Innovative Genomics Institute, told the Technology Review.
Full Story: https://www.rt.com/news/474955-scientists-china-crispr-babies/